100 Places to Recycle Your Old Mattress
Caution should be used in promoting mattress recycling as a sustainable solution for mattress waste.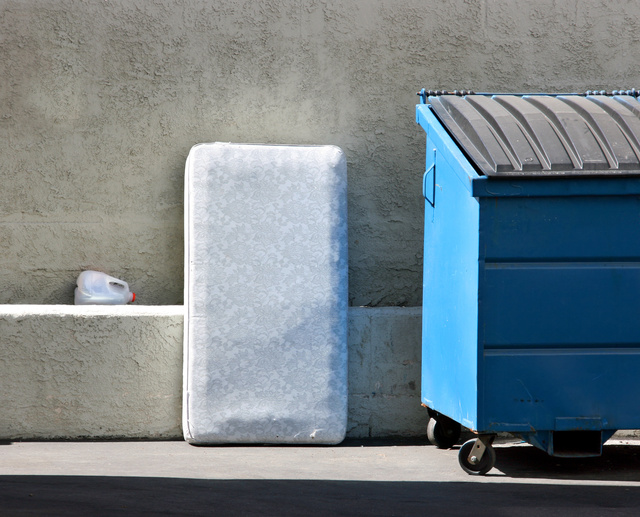 In previous iterations of this article, we strongly promoted the value of mattress recycling. We still see mattress recycling as a good option for many mattresses and hope mattress recycling programs will continue to grow. We do, however, think that some caution should be used in promoting mattress recycling as a sustainable solution for mattress waste.
Almost 20 million mattresses are sent to landfills or incinerators every year in the United States. This results in 450 million pounds of material occupying over 100 million cubic feet of landfill space. Conventional Mattresses are a terrible addition to landfills. They are difficult to compact, so they take up a large amount of space. Conventional mattresses contain synthetic foam and fibers, which are not biodegradable. Additionally, most conventional mattresses contain hazardous flame retardant chemicals which can potentially work their way into our drinking water.
Reduce, Reuse, Recycle
In addition to reducing, reusing and recycling, we recommend considering the composition of any mattress you are buying. We believe that mattresses made of synthetic materials or containing hazardous chemicals (such as some flame retardant chemicals) will always have problematic outcomes. It is better to recycle these mattresses than to send them directly into landfills. Still, it is best to avoid using these materials to begin with.
Reduce Mattress Waste
The number of new mattresses being produced can be decreased by increasing the longevity of each mattress. Here are our recommendations to reduce the number of new mattresses:
Demand and buy durable mattresses made of high-quality materials

Avoid mattresses made with low-density polyurethane foam

Add a topper to an old or uncomfortable mattress to extend its lifespan
Reuse Mattresses
Before you call up your local mattress recycling facility, there are some other options you may want to consider. Reusing a mattress requires significantly less energy, and no waste is created in the process. Here are some simple options that are better than recycling your mattress:
Use it in a guest room

Give it to a friend or family member

Add a topper to an old or uncomfortable mattress to extend its lifespan

Sell it or give it away on Craigslist

Donate it to charity
Reconsider Mattress Refurbishing
Finding a mattress refurbisher who will take your old mattress is another solution that is preferable to recycling. While mattress refurbishing companies have often been vilified, they are doing an excellent service by reusing used mattress components in new mattresses. There have been some cleanliness and labeling concerns with mattress refurbishing companies in the past. Reputable mattress refurbishing companies have proper sanitary controls and label their mattresses as "refurbished" mattresses. We sell our topper returns to a local mattress refurbishing company that uses it in refurbished mattresses.
Recycling Options
If you've considered reuse possibilities but are unable to follow through with any of them, recycling your mattress is a good option. Mattresses have many components that can potentially be recycled.
Steel
The average mattress contains 25 pounds of steel. By weight, steel makes up the largest component of an average mattress. With steel recycling facilities across the USA, it is also the easiest component to recycle. Once removed from the mattress, the steel can be melted down and reused. One issue that mattress recyclers can have is compacting steel springs enough to be transported to a scrapyard cost-effectively. Another problem is that mattress recyclers have had trouble finding ways to remove the fabric from pocket coil units.
Foam
Most mattresses also contain a large amount of foam, which is relatively simple to reuse. Foam can be shredded and sold to carpet padding manufactures. Carpet padding manufacturers compress the shredded foam and bond the shredded pieces together to create carpet padding. Thicker "rebond" foam can also be made through a similar process. Rebond foam can be found in vehicle seating, motorcycle seating, exercise equipment and many other applications where extremely dense foam is needed. It should be remembered that there are eventual biodegradability and environmental concerns regarding polyurethane foam.
Natural Fibers
Natural Fibers such as cotton can be shredded or used to create yarn. This yarn will then be cleaned and respun before being reused in another textile application. If the fibers are shredded, they will go through a similar cleaning process before being used as a filling in a new application such as a sofa cushion, dog bed or even another mattress.
Synthetic Fibers
Synthetic fibers such as polyester are shredded and granulated into small polyester "chips". These chips can be melted and used in new polyester textiles. Many clothing items and mattress fabrics incorporate recycled polyester. Biodegradability and environmental concerns do remain despite the fact that these materials can be recycled.
100 Places to Recycle Your Old Mattress
Below is a list we have put together a list of 100 mattress recyclers across North America. We have tried to ensure all of the information is complete and accurate but encourage you to confirm any information before dropping your mattress off.