Pure Green Organic Latex
Mattress
Ships Same Business Day Until 3PM CST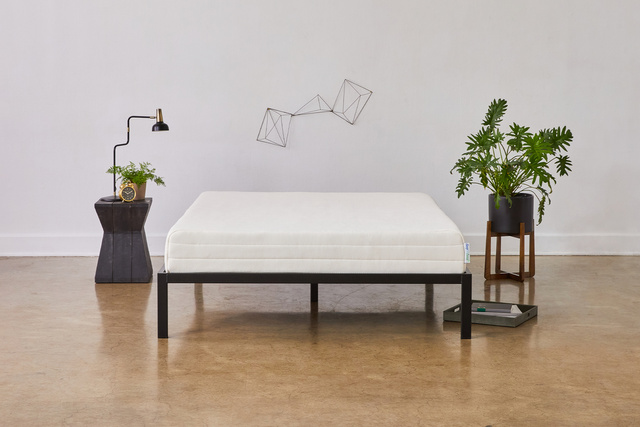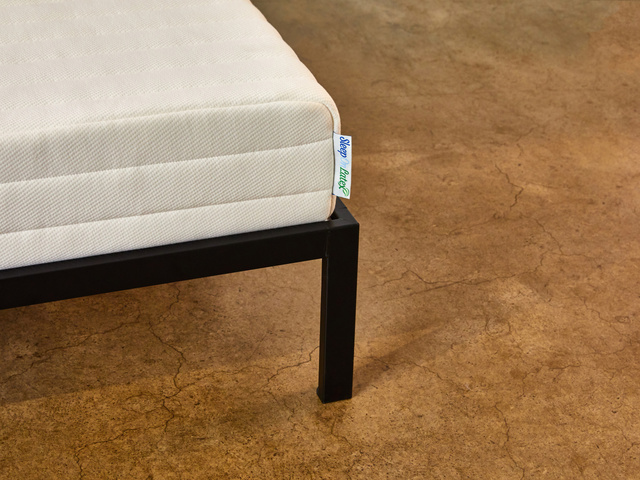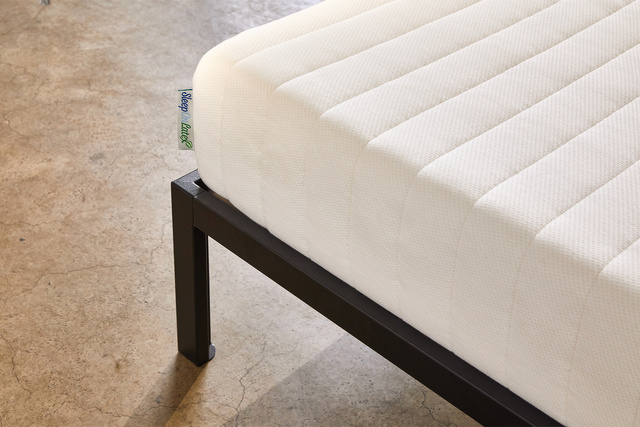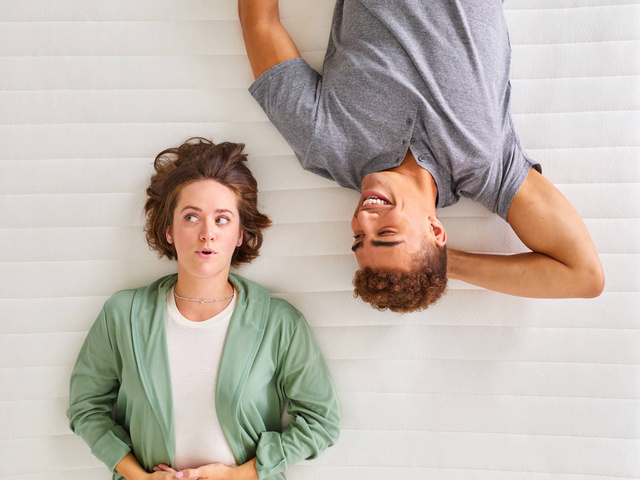 Materials
8" Solid Organic Latex Foam
Organic Cotton Fabric
Organic Wool
Certifications
GOTS and GOLS Certified Organic
Fair For Life – Fair Trade (Latex Foam)
Oeko-Tex Standard 100 & More
Same day shipping (unless otherwise specified) and free returns.
A new standard in Latex Mattresses.
Made of Organic Latex Foam, Organic Cotton and Organic New Zealand Wool. We carefully crafted this natural latex mattress to produce a simple but high-quality mattress that is comfortable, durable and safe.
Each mattress is hand-sewn, assembled and packaged in our own Niles, IL factory. The mattress is shipped fully assembled, compressed and packaged in recyclable paper packaging.
We designed our purchase process to be as easy and risk free as possible.
Free Returns
The mattress can be returned for free at any time within 100 days from delivery, no questions asked. If it doesn't work out, we'll arrange a free pickup and provide a full refund once the pickup is completed.
10 Year Warranty
We stand behind our products. Each mattress comes with a comprehensive 10-year warranty so that you can feel confident in your investment.
No Assembly Required
The mattress arrives in a single box, rolled up and compressed in recycleable paper wrap. It can be used immediately
The materials used in our mattress are natural, safe and provide great performance.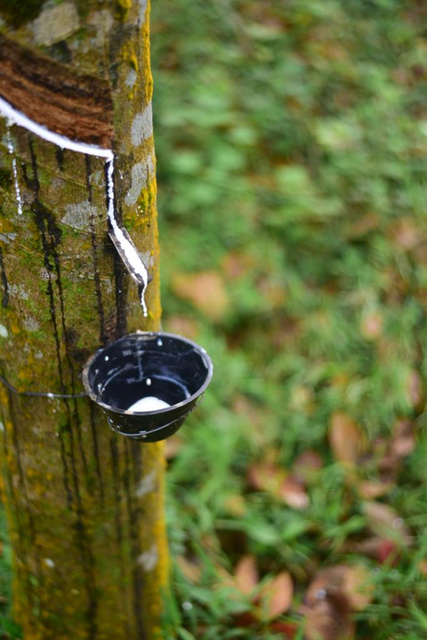 Organic Natural Latex Foam
Natural latex foam is comfortable, durable and safe. Our latex foam is made of natural latex harvested from organically-grown rubber trees on fair-trade certified estates in Sri Lanka. It is certified through GOLS (Global Organic Latex Standard), Fair For Life, Oeko-Tex Standard 100 and ecoInstitut.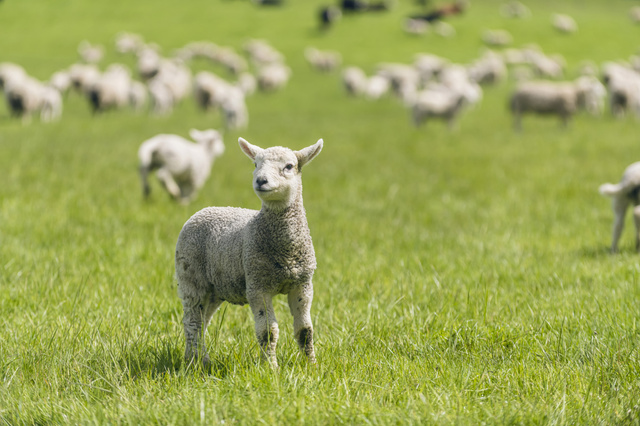 Organic Wool
Wool is plush, fire-resistant and temperature regulating. The GOTS-certified organic wool used in our mattress is supplied to us by Wools of New Zealand, a farmer-owned collective dedicated to producing high-quality wool through sustainable practices.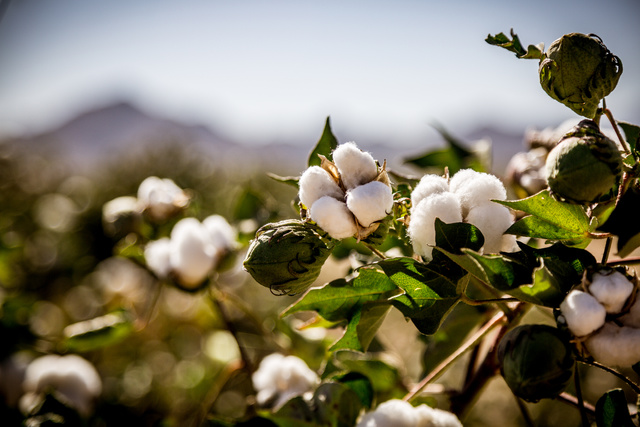 Organic Cotton
Organic cotton is soft, cool and strong. It is grown without the use of pesticides or synthetic fertilizers and processed in certified organic factories. We only use 100% cotton fabric that is GOTS-certified.
The materials are made into a simple but unique product that maximizes their natural benefits. ‍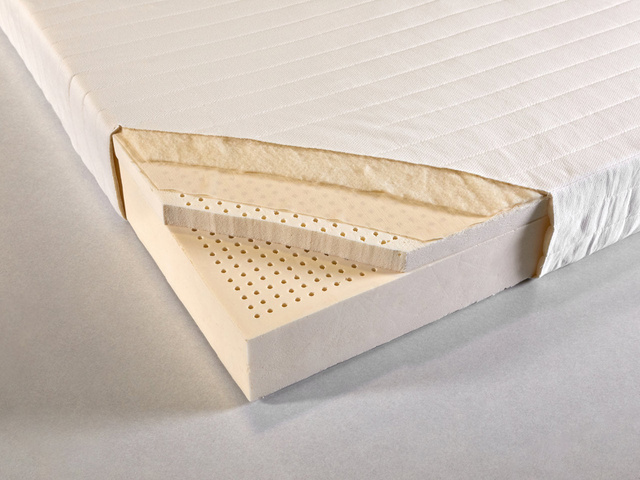 Natural Latex Foam Comfort Layer
The comfort layer provides softness to the top of the mattress, which allows the mattress to conform to the body's curves to avoid pressure points.
Natural Latex Foam Base
The base provides a strong but responsive base which ensures that the body is properly supported and comfortable.
Organic Cotton Knit Face
The organic cotton knit fabric, which was designed specifically for our mattress, provides a soft and flexible surface to the outside of the mattress.
Organic Wool Batting
Wool has inherent fire-resistant and temperature regulating properties which keep the surface of our mattress cool and comfortable while simultaneously allowing the mattress to meet federal flammability requirements.
Organic Cotton Quiltbacking
Unseen but important, a layer of German-made organic cotton tricot fabric holds together the face fabric and wool without sacrificing comfort.
Our mattresses are quilted, sewn, assembled, and packaged in our own factory.
The mattress provides a breathable sleeping surface with instant pinpointed support. ‍
Since we introduced the Pure Green Mattress in 2015, it has consistently received high marks. It has been recommended by Consumer Reports, Wirecutter and named the Best Latex Mattress by US News and World Report. We mainly attribute this reception to the natural latex foam used in our mattress.
Each point of the natural latex foam absorbs pressure instantly with minimal distribution to the rest of the surface area. This allows the foam to contour smoothly around the body and enables movement without resistance or disturbance. The stretchiness of the cover allows the comfort of the foam to be transferred to the body without any restriction. The breathability of all of the materials minimizes the heat retention of the mattress.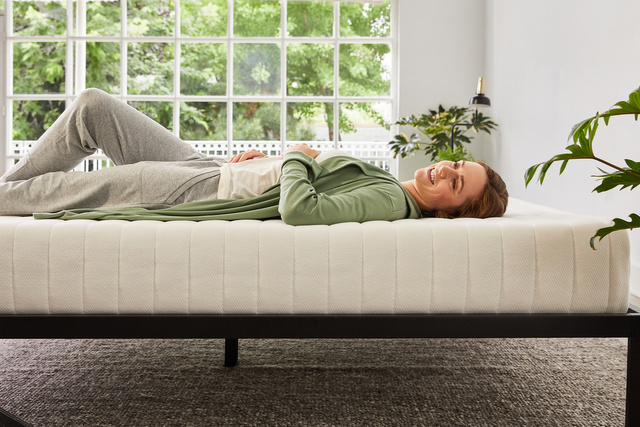 Our mattresses are designed to last and come with a warranty to back it up. ‍
Our mattresses are designed to last. Natural latex foam has long been regarded as one of the most durable mattress materials available. We conduct various durability tests to ensure that our mattress performs to the highest standards.
Every mattress we sell comes with a comprehensive 10-year warranty so that our customers can feel confident in their investment.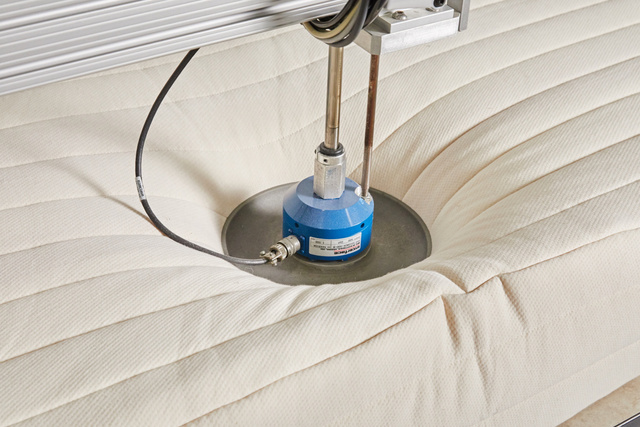 We offer a simple choice of two different options to accommodate all sleeping styles and preferences.
Medium
The medium mattress is our most popular mattress firmness. It offers supportive, cushioned comfort that works well for many different body types and sleeping styles. Perfect for couples with different sleep styles.
Firm
Our firm mattress is great for stomach sleepers and back sleepers who prefer sleeping on a firm surface. It feels very supportive and strong but has just enough give to help alleviate pressure points.
The mattress and its components comply with several internationally recognized certification standards.
Our mattresses carry several certifications which ensure that they are responsibly produced and safe. GOLS (Global Organic Latex Standard) and GOTS (Global Organic Textile Standard) are organic certifications that apply to products made from organic agricultural inputs. Oeko-Tex Standard 100 and Greenguard Gold are physical content and chemical emission certifications that ensure product safety.
The latex we use is Fair For Life Fair Trade certified. To qualify for this certification, we source from farmers (primarily small farmers) who treat their workers fairly and pay a premium directly into a worker-directed fund used for community projects.
Every certification that we advertise is issued directly to our company.
Our mattress can be used on a large variety of bed frames but works best on frames that provide solid support.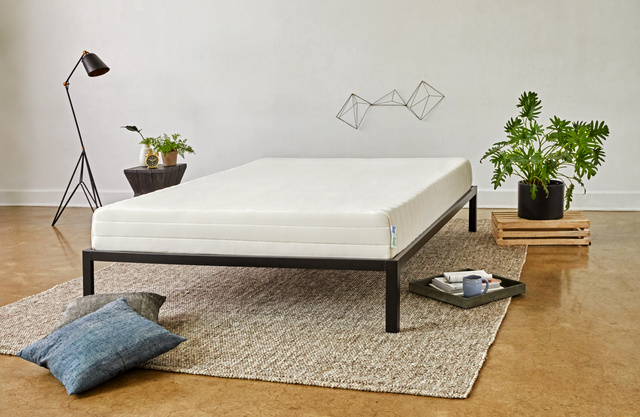 Frames with a Solid Surface
Because the mattress is flexible, we recommend using it on a solid base. This will prevent the mattress from sinking into spots without support
Slatted Frames
Our mattress can be used on slats not more than 3" apart. The mattress may sink slightly into a slatted frame and make the mattress feel a little bit softer.
Box Springs
We recommend against using the mattress on top of any type of box spring with open areas that do not provide support. Any frame without full support can be easily modified to work with our mattress by adding a bunky board.
We appreciate all feedback on our products. We publish and respond to every review we receive.
1