5 Reasons To Choose A Latex Mattress Topper
There are many different reasons someone may want a latex mattress topper to put on top of their existing mattress.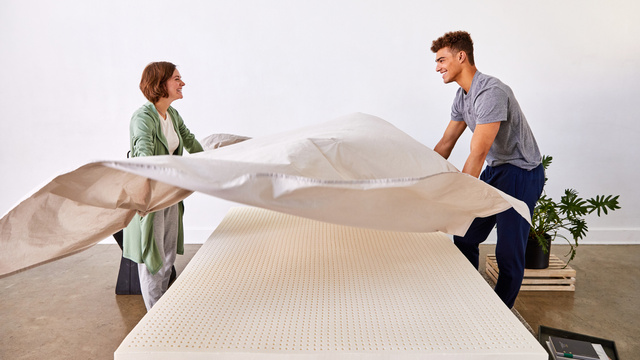 As we talk to our customers, the same reasons come up over and over again. Initially, many people are unsure of their own reasoning in buying a latex mattress topper and think that their reason for wanting a latex mattress topper is unique. At Sleep On Latex, we often find ourselves mentioning examples of other customers who have bought a latex mattress topper for the exact same reason. Below is a list of the most common reasons people buy latex mattress toppers.

1. I just bought a new mattress but it's too firm
It can be hard to judge how a mattress will feel day in and day out. The firmness of a mattress will likely feel different to you after sleeping on it for 5 hours vs. trying it out for 5 minutes in the store. It is easy to make a mistake. Just because a mattress is a little too firm, does not mean you made a terrible mistake. A lot of our customers like their new mattress but simply wish it was a bit softer. A soft or medium latex mattress topper is perfect for this situation. A 2" latex mattress topper will work great in most cases. A 1" latex mattress topper may work if the problem is very minor. A 3" latex mattress topper is great if the problem is more severe or if you simply love the feel of latex foam. A soft latex mattress topper will make your mattress feel slightly softer without drastically altering the feel of your mattress. If anything, it will probably give you better support than the mattress below.

2. My mattress is old and uncomfortable
Putting a latex mattress topper over an old mattress can give the mattress a whole new life. If you have an old mattress that has become increasingly uncomfortable, a latex mattress topper is a great and cost effective alternative to buying a new mattress. Often, mattresses have soft polyurethane foam at the top. Polyurethane foam will degrade over time and will eventually lose its firmness. Depending on the quality of the mattress (more expensive does not always mean higher quality!), this process may take place sooner than you would expect. Often times the springs below the foam will remain in decent condition after the the foam has lost its firmness. The mattress will feel firmer because it has lost the soft cushion that the foam once provided, leaving only the feel of the firmer springs below. Putting a latex mattress topper on top of your old mattress will restore the cushion that the polyurethane foam once provided. Latex foam is much more supportive than the polyurethane foam and you will likely find that your old worn out mattress is more comfortable than ever. The best thing is, you won't have to worry about the latex foam falling apart like the polyurethane foam. It is not uncommon for latex foam to last for over 20 years.

3. My mattress is too hot
Latex mattress toppers breathe very well and are great to place on the surface of a hot bed. Many beds use memory foam on the top layer of the mattress. Memory foam retains heat and contains no air channels to allow heat to escape. Latex foam naturally breathes and contains air channels which allow air to circulate through it. When you choose a latex topper to resolve heat issues with a mattress, be sure to choose a thicker topper to provide an adequate barrier between your body and the mattress below. Also be mindful of other materials on the surface of the mattress. The heating effects of synthetic and non-breathable materials on the surface of a mattress can be very difficult to counteract.

4. I hate the way my memory foam mattress caves in on me
We don't sell any memory foam, but we have to admit that memory foam seems "cooler" than latex foam at first sight. Unfortunately, many people find that the memory foam mattress they thought was so "cool" in the store, is simply not comfortable to actually sleep on. As mentioned above, it gets hot. We also commonly hear from customers who complain about how their memory foam mattress caves in on them. The slow movement of memory foam, which makes memory foam seem "cool" in the store can be a huge problem for people when they actually sleep on it. Many people find themselves waking up frequently throughout the night as their memory foam mattress prevents them from moving around in their sleep. Latex foam, on the other hand, is very reactive and will move with you to provide support at every point. While memory foam will fight you every time you shift position, latex foam will adjust instantly to keep you comfortable. We recommend going with a 3" latex mattress topper in this situation to give you maximum protection from the sinking memory foam. A medium or firm 2" latex mattress topper may also help.

5. I am building my own mattress and need a top layer
We talk to a lot of customers who have taken matters into their own hands when it comes to a mattress. We sell all kinds of latex foam toppers which can be used for DIY mattresses. Our large selection of 100% natural latex mattress toppers is great for people who want an environmentally friendly mattress which is free of harmful chemicals. When building your own mattress, it is important to understand that our bare latex foam will not pass federal fire regulations. Our mattresses contain a wool barrier which allows them to meet these standards.
This list is by no means exhaustive so if you don't find your reason on this list, don't worry, there are plenty of other reasons to choose a latex mattress topper. Feel free to call us at 312-380-1960, if you need any advice. You can also email us at sales@sleeponlatex.com.