A Deep Dive into our Certifications
An overview of our health and safety, organic, and fair trade certifications.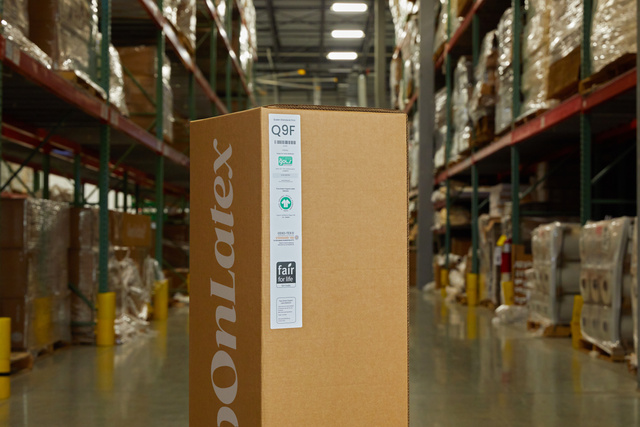 We are committed to selling safe products produced through responsible supply chains. To verify and validate our commitment to these ideals, we carry several third-party certifications. Our certifications fall into three main categories; health and safety certifications, organic certifications, and fair trade certifications. Below we go into detail on each certification category and provide an overview of each certification.
Health and Safety Certifications
We have several certifications that help to verify the safety of our products. We earn these certifications by submitting our products and materials for lab tests that measure harmful compounds and emissions.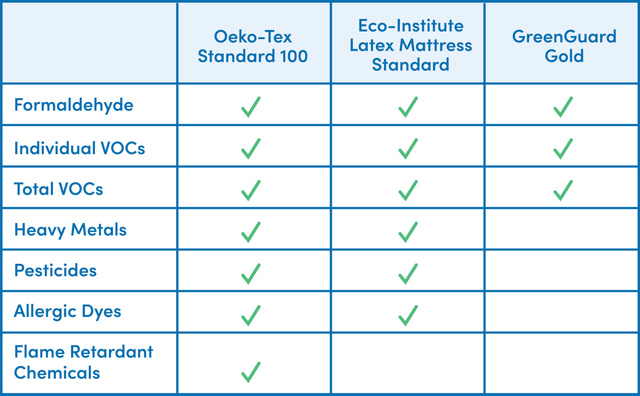 This chart compares some of the substances each certification does or does not test for.
The chart above shows our three health and safety certifications alongside a list of compounds each standard measures. It's important to note that this list is not exhaustive but does include what we consider to be the most important criteria.
VOCs or volatile organic compounds are tested for in every product safety certification that we carry. VOCs are organic compounds that are volatile enough to vaporize at lower temperatures, similar to the expected temperature of a home. Vaporization of these compounds allows them to enter the air and creates a risk of inhalation. In excess, inhalation of VOCs can lead to health issues.
Other companies sometimes use these certifications to justify "Zero VOCs" or "Chemical Free" claims. While these certifications assure that any presence of harmful compounds is at or below a level that is considered safe to human health, they do not provide assurance that no harmful compounds are present at all. Even when a compound is not detected, the compound may be present but at an amount that is undetectable. For this reason, we never make "Zero VOC" or "Chemical Free" claims.
Below is a basic overview of each health and safety certification that we carry.
GreenGuard Gold
GreenGuard is a certification administered by Underwriters Labs that focuses on VOC emissions, aiming to limit indoor air pollutants. The certification has two levels, GreenGuard and GreenGuard Gold, a more stringent version of the certification. We are certified at the GreenGuard Gold level.
To become certified, we submitted samples of our products to be tested for VOCs in an emissions chamber and underwent a physical audit. To maintain our certification, we send UL samples of our products on an annual basis for retesting. We first became Greenguard Gold certified in 2016. The certification currently covers our mattresses and mattress toppers (we have not submitted other products for certification).
OekoTex Standard 100- Confidence in Textiles
The Oeko-Tex Standard 100 ensures textile product safety through testing for harmful compounds. There are four product classes with different criteria. Our products are certified under Product class 1, which includes products for babies and has the strictest requirements and limit values. Oeko-Tex Standard 100 certification can apply to individual textile materials or complete products. Our certification covers all of our finished products.
To certify our products, we submitted samples of all of the materials in our products for testing. The set of tests includes emissions tests which look for VOCs (including individual and total VOCs) and flame retardant chemicals. Other tests inspect the materials for compounds such as pesticides and heavy metals. To maintain our certification, we submit new samples of our product materials every year and undergo an audit of our facility every other year.
Our foam has been Oeko-Tex certified since 2015. In 2020, we certified all of the complete products that we sell.
EcoInstitute- Latex Mattress Standard
EcoInstitut tests our foam for VOCs through an emissions test. In this emissions test, they check for formaldehyde, individual VOCs, and total VOC content. They also conduct a physical test of the foam, which checks for pesticides and heavy metals. The EcoInstitute standard applied to our products is specific to latex mattresses. This standard includes content analysis to ensure that our latex foam does not contain any synthetic latex or fillers. Our EcoInstitue certification covers all of the latex foam used in our products. We renew our certification every year and have been EcoInstitut certified since 2015.
Organic Certifications
Organic certifications ensure that materials and products are made from organically grown inputs. An organic input is a substance cultivated through organic agriculture without GMOs (genetically modified organisms), synthetic fertilizers, herbicides or pesticides. Every step of production must be certified for the final product to be considered organic. Organic certifications utilize chain of custody tracking to ensure a balance between organic materials produced and organic products sold.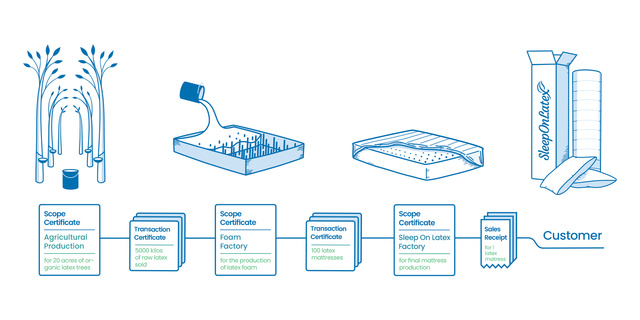 This graphic illustrates the organic chain of custody for our latex.
As you can see in the graphic above, every party in the chain of custody is audited for compliance. Scope Certificates are issued to those that are able to demonstrate compliance with the standard. A Scope Certificate denotes the ability to participate in the chain of custody for specific organic materials or products.
While a Scope Certificate indicates the ability to process and sell certified organic goods, every shipment of organic goods must be accompanied by a Transaction Certificate. The Transaction Certificate documents the volume of goods being sold and the parties involved in the transaction. Transaction Certificates are tracked and reviewed during audits, allowing the reconciliation of inflows and outflows of organic goods. Most companies that carry organic certifications also produce non-organic products, so a Scope Certificate without a Transaction Certificate accompanying goods has no significance.
It is essential for all parties in an organic supply chain, including the final seller, to be certified. Without the ability to trace a good's Transaction Certificates through every step of the chain of custody, there is no way to ensure that it is genuinely organic. We see many companies using their "supplier's" organic scope certificate as "proof" that their product is organic. However, a scope certificate of a "supplier" does not, in any way, assure that a final product is organic. If the final seller is not certified organic themselves, the chain of custody is not being tracked or audited by anyone. As a certified final seller, we provide documentation that inflows of organic material match our organic sales during our audits.
Global Organic Textile Standard (GOTS)
GOTS is a certification that ensures that the fibers used in a textile product were organically grown and processed. The standard offers two levels of certification, "Organic" and "Made With Organic Materials." To be classified as "Organic," a product must be made from at least 95% organic material. The "Made with Organic Materials" certification requires at least 70% of a product's input to be organic material. Our products are made using at least 95% organic material, so we are certified "Organic" by GOTS. GOTS also includes other social and environmental requirements such as employees' right to collective bargaining, proper working conditions and a living wage for all workers, proper disposal of facility waste, and proper handling of organic goods.
GOTS focuses on fibers such as wool and cotton and does not certify latex or latex foam alone. It does, however, allow for specific materials and product components that are not GOTS certified to be used in a certified final product. One of those materials is latex foam, as long as it has been certified by FSC (Forest Stewardship Council) or GOLS (Global Organic Latex Standard). Since all of our foam has either GOLS or FSC certification, we can certify our finished products under GOTS.
Our GOTS certification is issued by Oregon Tilth, an approved GOTS certifying body. We first received our GOTS certification in 2020. Yearly audits are conducted to review our continued compliance with the GOTS standards. This includes a balancing of our sales receipts with our Transaction Certificates. Upon passing our annual audit, Oregon Tilth renews our Scope Certificate for another calendar year.
Global Organic Latex Standard (GOLS)
GOLS is a certification specific to products made with natural latex. It requires that a latex foam product contain at least 95% organic latex. While GOLS is specific to the organic production of latex, it also covers other organic materials in a final product if they are certified by an accepted standard. GOTS certified materials count as accepted organic material by GOLS, so our finished mattress and topper are fully certified. This standard also includes environmental and social requirements such as providing a living wage for employees, ensuring the proper handling of a facility's waste, and proper handling of organic goods.
To become GOLS certified, we were audited by Control Union, a GOLS approved certifying body, for compliance. Every year, Control Union checks balances our Transaction Certificate with our sales receipts. We received our initial Scope Certificate to sell our mattress and toppers in 2019. Upon successful completion of a yearly audit, Control Union renews our Scope Certificate for another calendar year.
Fair Trade Certifications
Agricultural workers are generally the most vulnerable individuals in a supply chain. Fair Trade certifications provide assurance that agricultural workers are treated fairly and appropriately compensated for their work. Fair Trade certifications also help ensure that a company provides social welfare to workers throughout the entire supply chain.
Fair For Life
Fair for Life is a fair trade certification that focuses on the human conditions of work, verifying that workers are paid sustainable wages and are provided safe, healthy working conditions. Important initial requirements for certification include paying premiums on organic goods, preferential sourcing from small farmers (smallholders), and investment in a fund controlled by agricultural workers. Fair For Life requirements builds with additional criteria each year after initial certification. This system provides a framework for continuous improvement. The Fair For Life standard includes a methodology to calculate a compliance score for each business certified. All scores can be found on the Fair For Life website. This certification is our newest, earned in 2021.
Fair For Life requires that farmers are paid a premium for the organic goods they produce. The required premium ensures that farmers are paid more money for producing organic goods. It also creates an incentive for non-organic farmers to start farming organically.
Fair For Life's requirement to do business with smaller farms helps protect smallholders. Fair For Life provides security to the smallholders through contractual trade agreements. These agreements guarantee a set amount of goods will be purchased at a fair price.
A Fair For Life certification requires the certifying company to create a development fund for the agricultural workers in their supply chain. After the fund is created, the money goes straight into the control of the agricultural workers, allowing them to spend the money however they see fit. These funds are most commonly used to finance projects that lead to the betterment of working conditions or improvements to the community.
Fair For Life certifying bodies carry out a strict and rigorous certification process. To get certified, we were audited by Eco-Cert, a Fair For Life verified certifying body. The audit reviewed our supply contracts and business practices for compliance with the Fair For Life requirements. Upon making changes to fully comply with the Fair For Life standards, such as paying the adequate premium on organics and creating the development fund, we were awarded our Scope Certificate in 2021. Yearly audits will review our continued compliance and renew our Fair For Life Scope Certificate.
Since establishing the development fund less than a year ago, latex agricultural workers in our supply chain have already used the fund to purchase rain covers for the latex collection receptacles. These rain covers make it possible for workers to harvest latex in wet conditions, something they could not do before. The ability to work through the rain means workers can rely on more consistent work hours.
In Conclusion…
These certifications can lead to a better culture around shopping by providing assurances to buyers and verifications of a company's claims. With that said, they are by no means perfect. We have been critical of our certifications in the past, and intend on continuing to do so moving forward in order to encourage continuous improvement. In the meantime, we have chosen certifications we believe are well-intentioned, add value to our brand, and assist our customers with their shopping experience. If you have any doubts, concerns, or questions about our certifications, please don't hesitate to reach out.