How to Dispose of Your Old Mattress
Although a growing number of consumers are now opting for more sustainable mattress options, the question on what to do with your old mattress remains.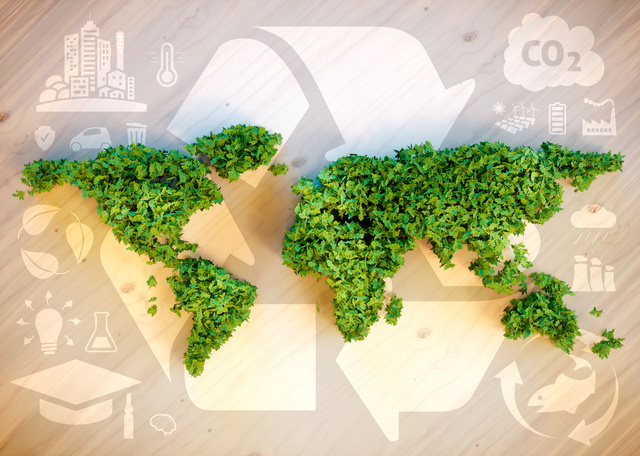 So you've just brought your new mattress home and are ready to finally get a good night's sleep. Out of the corner of your eye, you see your old, ugly, worn-out mattress. "What am I going to do with that thing?" It's a question that all new mattress buyers have to grapple with.
Examining the Environmental Impact
About 20 million mattresses are sent to landfills each year in the United States which results in 450 million pounds of material occupying over a staggering 100 million cubic feet of landfill space.[1]Traditional innerspring mattresses are comprised of steel coils, polyester batting, cotton, and chemical-based adhesives and fire retardants that take more than a lifetime to break down. When these innerspring mattresses end up in landfills, it can take between 80-120 years for all of these materials to decompose[2]. Unfortunately, polyurethane-based mattresses (more commonly known as memory foam) are even more problematic and can take up to 1,000 years to fully decompose.[3]
Additionally, conventional mattresses that contain hazardous flame retardant chemicals can potentially work their way into our drinking water[4]. Once in landfills, mattresses can also become breeding grounds for insects, rodents, and bacteria that can quickly become a public health risk.
Sounds pretty scary, right? Fortunately, there are a number of environmentally-friendly options available to get rid of your mattress, and we're here to help explain some of the options that are available today.‍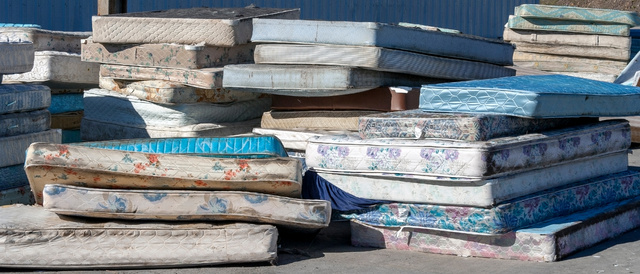 Recycling
Although the recycling process can be resource and energy-intensive, it is overall one of the most eco-friendly ways to deal with an old mattress since most conventional mattresses contain materials that can be easily recycled. Current estimates show that more than 80% of the materials in innerspring mattresses and box springs are recyclable including[5]:
Steel springs

Natural and man-made fabric

Synthetic foam

Wood
A growing number of local waste services are able to schedule bulk pickups and recycle it for residents that call to request this service. Some states have already taken significant steps to make the process of removing your old mattress easier. Thanks to the Mattress Recycling Council, California, Connecticut, and Rhode Island have enacted laws that require easily accessible mattress recycling in their respective states.
The Mattress Recycling Council has also created an online resource called Bye Bye Mattress to help residents in these states locate recycling programs to safely discard their used mattress.
Earth 911 is an additional resource with links to nation-wide organizations that will also assist you with recycling your old mattress.
We have also put together a handy map that can help you locate a mattress recycling facility in your area!
Donating
Donating is a fantastic way to ensure that your gently used mattress can go to someone in need. In order for a mattress to be eligible for donation, it should be clean and in good condition - meaning that it is under 10 years old and free of stains, tears, and bugs.
Great donation options include homeless shelters, domestic abuse shelters, churches, and organizations like Goodwill, Salvation Army, and Habitat for Humanity. You can find additional information about each organization below:
Upcycling & Other Options
Putting your old mattress back into use is the ultimate method of recycling. It is the least energy-intensive and one of the most cost-effective ways to improve an old mattress. If your mattress is still in good condition, you can give it to a friend or family member or even sell it on online marketplaces like Craigslist, LetGo, or OfferUp. Some older mattresses can also be given new life by adding a mattress topper for added comfort to help extend its longevity before getting rid of it.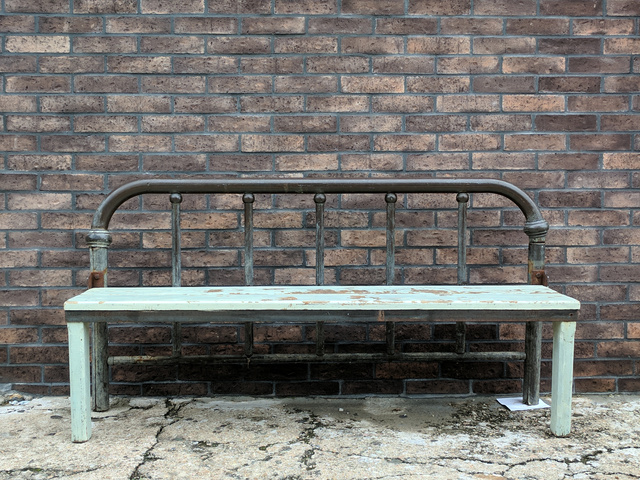 If your old mattress has seen better days and you're feeling crafty, you can get creative with upcycling. A surprising amount of the materials in spring and foam mattresses can be broken down for craft projects! For instance, coils can be repurposed as garden planters or rustic-style wall decor, and foam can be trimmed down for pet beds or replacement seat cushions. You can find inspiration from sites like Pinterest, Instagram, or TerraCycle to see how others have repurposed their old mattresses.
Disposal
Although recycling, donating, and upcycling are more environmentally friendly, there are times when it is unavoidable to dispose of an old mattress. If you are located in an area that does not have options for donating or recycling, then a junk removal service is still worth considering. Junk hauling services such as 1-800-GOT-JUNK are able to schedule a pick up at a time that's convenient for you and remove it directly from any room in your home. So they will take care of the removal every step of the way.
A valid concern with hauling services is that the materials will simply end up in the landfill. However, a number of major junk hauling companies have taken steps towards a more sustainable approach for mattress disposal and now make every attempt to recycle the materials first. Some hauling services will even make an effort to donate materials to partner facilities such as Goodwill depending on availability and location[6].
You can find more information about these hauling services and pricing for your area below:
United States
Canada
The Importance of Responsible Mattress Disposal
Although there are pros and cons to each option, the goal is ultimately to do what we can to reduce our individual carbon footprint - and every little bit counts! No matter which method of removal you choose, it's always important to consider the environmental impact. This is why one of our priorities here at Sleep on Latex is to continue to focus on responsible end of life solutions.
By using natural latex for our mattresses, the Pure Green mattress offers a longer lifespan (up to 10 years or more!) and they are more biodegradable and less harmful to the environment compared to conventional mattresses. Although most of us have inevitably owned a conventional or synthetic mattress, we are proud to offer a mattress that is more eco-friendly and sustainable to help reduce the overall impact that old mattresses have on our environment.
[1] Recycling vs. Landfill , greenbedrecycling.com (2/13/2017)
[2] Biodegradable Mattresses Good For You & The Environment, foamite.com (4/16/2016)
[3] 26 Household Items That Don't Disintegrate In Landfills, junkluggers.com (4/23/2019)
[4] Eco Etiquette: Used Mattresses - Icky Or Eco?, huffpost.com (7/21/2011)
[5] What Happens When A Mattress Is Recycled?, mattressrecyclingcouncil.org (2019)
[6] What We Take, 1800gotjunk.com (2019)
Featured image: malp © 123RF.com
Image 1: Roman Makedonsky © 123RF.com
Image 2: © Creatively Living